The
scientific
name of nylon is polyamide fiber, which is also called nylon. Polyamide is mainly used for synthetic fibers. Its outstanding advantage is extremely high abrasion resistance, which is 10 times higher than cotton and 20 times higher than wool. A slight addition of polyamide fibers to the blended fabric can greatly improve its wear resistance; when stretched to 3-6%, the elastic recovery rate can reach 100%; it can withstand tens of thousands of times of bending without breaking.
Nylon fabric is known for its excellent abrasion resistance, high strength and good resilience. Nylon fabric is not only the choice of down jackets and mountaineering clothing materials, but also is often blended or interwoven with other fibers to improve the strength and fastness of the fabric.
The excellent performance of nylon fabrics is as follows:
1. High strength and good wear resistance. The abrasion resistance of nylon fabric is many times higher than that of other fiber fabrics of similar products. It is an ideal material for making abrasion resistant products.
2. Light weight, nylon fabric has low density and light fabric. It is only listed in synthetic fiber fabrics after polypropylene and acrylic fabrics, and is lighter than cotton and viscose fibers; therefore, it is suitable for making mountaineering clothes, winter clothing, etc.
3. Good dyeability, nylon has better dyeability than polyester.
4. Alkaline resistance and reducing agent resistance are good, not afraid of mildew, not afraid of insects.
5. Low temperature resistance. Nylon filament has good low temperature resistance. When the temperature is below minus 70℃, its resilience does not change much.
6. The hygroscopicity of nylon silk fabric is a better variety among synthetic fiber fabrics, so the clothes made of nylon are more comfortable to wear than polyester clothes.
7. Nylon fabric has excellent elasticity and elastic recovery.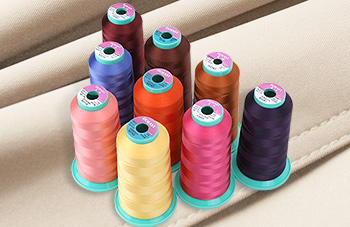 Zhejiang Doeast Thread Co.,ltd. is famous China cotton sewing thread manufacturers and high elastic sewing thread factory. Company specializing in the production and sales of all types of industrial sewing thread, variety anddiverse, covering almost the market required all sewing thread category, mainly related to polyester, nylon and cotton sewing thread.
Different categories of product thickness range can meet the various needs of different thickness offabrics and sewing operations. Suitable for using in all kinds of knitted and woven fabrics and leather.
Rich fixed color card plus quick dye-to-match service, can provide customers with more coloroptions. Combined with a variety of special post-processing technology, can meet the special type ofterminal needs (such as flame retardant, waterproof, anti-static, etc.)