In addition to the sewing function, the
sewing thread
also plays a decorative role. The raw materials of sewing thread are mainly polyester filament, polyester staple yarn, high-count cotton and polyester cotton. The dyeing of polyester sewing thread mostly uses disperse dyes. In order to improve the dyeing rate, it is generally dyed in a high temperature and high pressure cylinder, so the temperature of the wastewater is very high, the amount of water is small, and the biodegradability is poor.
The sewing thread is used to sew various garment fabrics and other auxiliary materials, and has the dual functions of practicality and decoration. The quality of the suture not only affects the sewing effect and processing cost, but also affects the appearance quality of the finished product. People engaged in the clothing industry must understand the general concept of stitch formation, twist, the relationship between twist and strength, stitch classification, characteristics and main uses, and the selection of stitches. The following is a brief introduction!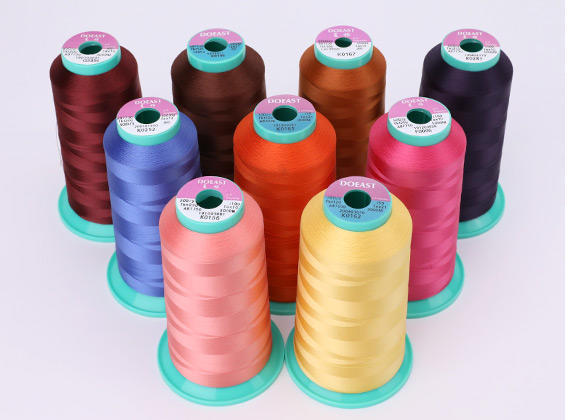 Line concept
1.Carding (carding) refers to a yarn spun by carding only one end.
2.Combing refers to the yarn combed at both ends of the fiber with a combing machine, the impurities have been removed, and the fiber is straighter.
3.Blending refers to yarns in which two or more fibers of different properties are mixed together.
4.Single yarn refers to the yarn formed directly on the spinning frame, and it will disperse once it is untwisted. It is called yarn for short.
5.Strand yarn refers to two or more yarns twisted together, referred to as thread.
6.Sewing thread refers to the general name of the thread used for sewing garments and other sewing products.
7.The new type of spinning is different from traditional ring spinning in that one end is a free end, such as open-end spinning and friction spinning. The yarns are tangled together and have no twist.
8.Yarn count is used to indicate the index of yarn fineness, mainly including English count, metric count, special count, and denier.
Zhejiang Doeast Thread Co.,ltd. is 
China filament sewing thread manufacturers
 and 
filament sewing thread factory
. Doeast BANYA is a continous filament polyester sewing thread with high tenacity. It is highly resistant to abrasion, visible sunlight and mild acids. filament sewing thread has excellent loop forming properties which ensure superior sewing performance. Its fineness coupled with its strength makes it ideal for blind stitching, hemming or serging in fine fabrics as well as in general sewing operations on fine woven fabrics such as jacket linings. we 
has provided OEM for many international sewing thread brands.