According to the purpose, it is divided into
sewing thread
, embroidery thread, industrial thread, etc., and the common classification is divided according to the raw material: natural fiber sewing thread, synthetic fiber sewing thread and mixed sewing thread。
Natural fiber sewing thread
  1. Cotton sewing thread: a sewing thread made from cotton fiber through refining, bleaching, sizing and waxing. Cotton sewing thread can be divided into non-light (or soft thread), silk light and wax light. Cotton sewing thread has high strength and good heat resistance, suitable for high-speed sewing and durable pressing. It is mainly used for sewing cotton fabrics, leather and high-temperature ironed clothes, but the disadvantage is that it has poor elasticity and abrasion resistance.
  2. Silk thread: Long silk thread or spun silk thread made of natural silk has excellent luster, and its strength, elasticity and wear resistance are better than cotton thread. Suitable for sewing all kinds of silk garments, high-end woolen garments, fur and leather garments, etc.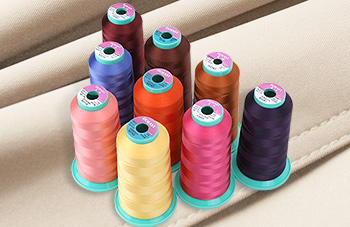 Synthetic fiber sewing thread
   1. Polyester staple fiber sewing thread: It is made of 100% polyurethane polyester staple fiber, which has high strength, good elasticity, abrasion resistance, low shrinkage rate and good chemical stability. There are wool on the surface, temperature resistance 130 degrees, high temperature dyeing. Polyester raw material is the most resistant to friction, dry cleaning, stone washing, bleaching and other detergents among all materials. It has low elongation and low stretch rate, and has the characteristics of flexibility, conformability, full color, and good color fastness. , To ensure excellent seamability, and to prevent wrinkles and skip stitches. It is mainly used for industrial sewing of denim, sportswear, leather products, wool and military uniforms. It is currently the most used and popular sewing thread.
Polyester sewing thread is also called SP thread and PP thread. Common models are: 20S/2, 20S/3, 20S/4, 30S/3, 30S/2, 40S/2, 40S/3, 50S/2, 50S/3 60S/2, 60S/3
   2. Polyester filament high-strength thread, also known as Tetoron, high-strength thread, polyester fiber sewing thread, etc. Using high-strength and low-elongation polyester filament (100% polyester chemical fiber) as raw material, it has the characteristics of high strength, bright color, smooth, acid and alkali resistance, abrasion resistance, corrosion resistance, and high oil rate. However, it has poor wear resistance and is better than nylon. The wire is hard and burns and emits black smoke.
  3, nylon sewing thread: made of pure nylon multifilament, divided into filament thread, short fiber thread and elastic deformation thread. It is made of continuous filament nylon fibers twisted, smooth and soft, with an elongation rate of 20%-35%, good elasticity, and burning white smoke. High abrasion resistance, good light resistance, mildew proof, coloring degree around 100 degrees, low temperature dyeing. It is widely used because of its high seam strength, durability, flat seam, and can meet the needs of a wide range of different sewing industrial products. Commonly used is filament thread, which has large elongation and good elasticity, and its stretched length at the moment of breaking is three times larger than that of cotton thread of the same specification. Used for sewing chemical fiber, woolen cloth, leather and elastic garments. The biggest advantage of nylon sewing thread is transparency. Because this thread is transparent and has good color, it reduces the difficulty of sewing and wiring and has a broad development prospect. However, due to the fact that the rigidity of the transparent thread on the market is too large, the strength is too low, the stitches are easy to float on the surface of the fabric, and the sewing speed cannot be too high. At present, this type of thread is mainly used for decals, skewers and other parts that are not susceptible to force.
Nylon thread is also called nylon thread. There are nylon 6 (Nylon 6) and nylon 66 (Nylon 66) points. Sideline).
  4. Vinylon sewing thread: It is made of vinylon fiber with high strength and stable stitches. It is mainly used to sew thick canvas, furniture cloth, labor protection products, etc.
  5. Acrylic sewing thread: It is made of acrylic fiber with low twist and bright dyeing. It is mainly used for decoration and embroidery. 
Mixed fiber sewing thread
      1. Polyester-cotton sewing thread: It is made of 65% polyester and 35% cotton blending. It has the advantages of polyester and cotton. It has high strength, wear resistance, heat resistance and good shrinkage. It is mainly used for cotton and polyester cotton. High-speed sewing of all kinds of clothing.
  2. Core-spun sewing thread: The filament is the core and is made of natural fiber outsourcing. The strength depends on the core thread. The wear resistance and heat resistance depend on the outer yarn. It is mainly used for high-speed and firm garment sewing.
  2.1 Cotton-covered polyester sewing thread: It is made of high-performance polyester filament and cotton, spun through a special cotton spinning process, with filament-like evenness, smooth, low hairiness, small stretch, and has the characteristics of cotton.
      2.2 Polyester-coated polyester sewing thread: It is made of high-performance polyester filament and polyester staple fiber, spun by a special cotton spinning process, with filament-like evenness, smooth, less hairy, and small expansion, which is better than the same specifications Polyester sewing thread.
  3. Rubber band line: It is also a rubber product, but it is relatively thin. It is often interwoven with cotton yarn and viscose silk to form an elastic band. Mainly used for shaping underwear, socks, cuffs, etc.
Introduction to composite high-end sewing thread: According to its composite method, it can be divided into core-spun thread and parallel twisted thread. The core-spun yarn is a core-spun yarn with a core-sheath structure formed by covering filaments with short fibers (the core-spun yarn device is added to the ring spinning machine for production). The spun yarn is formed by directly warping and twisting the yarn. Compared with cored wire, parallel twisted wire has the following characteristics:
   (1) Spinning equipment does not need to be updated, it is easy to operate, and can reduce labor
   (2) Conventional twisting and twisting equipment can be used for production
   (3) Low processing cost
   (4) The combined ratio of filament and spun yarn can be controlled
   (5) There will be no yarn defects such as hollow core, exposed core, hollow sheath and so on that are common in core-spun yarns.