Sewing thread
refers to the thread used to stitch textile materials, plastics, leather products, and sewing books and magazines. The sewing thread has the characteristics of sewability, durability and appearance quality. Sewing threads are roughly divided into three types: natural fiber type, chemical fiber type, and mixed type due to their different materials; the characteristics of sewing thread also have unique properties due to their different materials:
Cotton sewing thread
---Good heat resistance, poor elasticity, abrasion resistance, moisture resistance, and anti-bacterial ability, suitable for high-speed sewing and durable pressing.
The most used long-staple pure cotton thread: It is made of long-staple cotton through combing, singeing, mercerizing, and high-density twisting, so the tensile force is better than ordinary combed pure cotton. Often used for pure cotton clothing and other pure cotton fabrics for sewing purposes
Specifications 20/2 (60/4), 20/3 (60/6) 40/2, 40/3, 20/9
Pure cotton thread: Generally divided into two parts: carded and combed. The real 100% pure cotton thread can be used for sewing as fully combed cotton. Generally use 402, 202, 203 more. It is made by combing and singeing high-quality cotton in the cotton area. Pure cotton thread is often used for sewing pure cotton clothing and other pure cotton fabrics.
Polyester sewing thread
---High strength, smooth and beautiful stitches, wear-resistant; no mildew, no rot, low price, rich color, no color fading, no shrinkage.
Polyester cotton sewing thread
---Made of 65% polyester staple fiber and 35% cotton fiber blended, the thread has high strength, good abrasion resistance, low shrinkage, good flexibility and elasticity, and good heat resistance. Can sew all kinds of clothes.
Nylon sewing thread
---Strong elongation, good elasticity, smooth texture, silky luster, excellent abrasion resistance
Nylon thread
--- High breaking strength, good abrasion resistance, low moisture absorption, high elasticity, but insufficient heat resistance, generally controlled at about 120°C. Generally used to sew chemical fiber fabrics, woolen cloth, woolen sweaters, etc.
Vinylon thread
---Low price, high breaking strength, abrasion resistance lower than nylon thread, good chemical stability, mainly for sewing all kinds of flour bags, cloth rubber shoe uppers, canvas, buttonholes, buttons, etc.
silk
---Smooth surface, soft luster, good elasticity and high temperature resistance. Used to sew woolen garments and satin fabrics; rayon is bright in color, but has poor strength, poor moisture absorption, and low price. Mostly used for machine embroidery.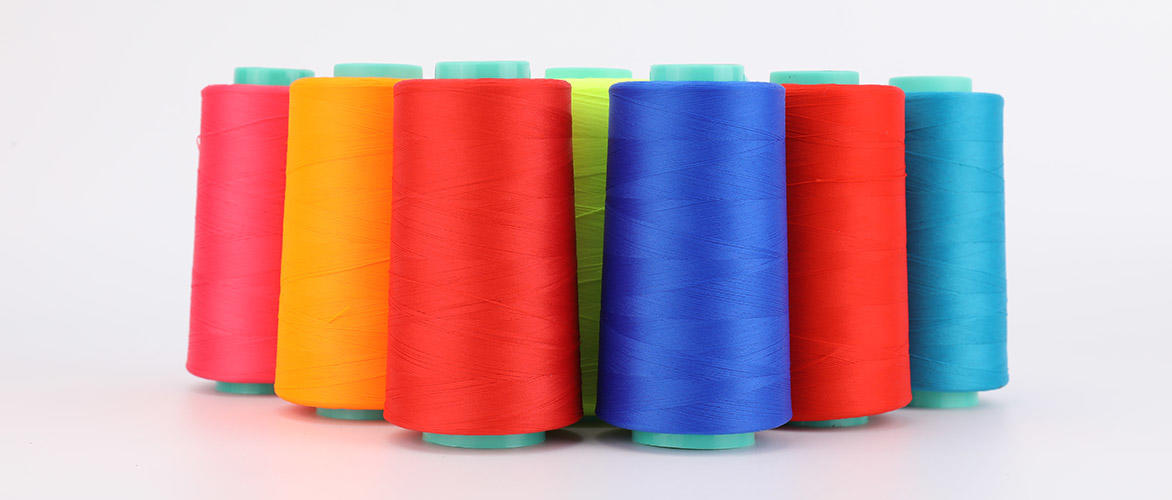 Zhejiang Doeast Thread Co.,ltd. is famous China cotton sewing thread manufacturers and high elastic sewing thread factory. Company specializing in the production and sales of all types of industrial sewing thread, variety anddiverse, covering almost the market required all sewing thread category, mainly related to polyester, nylon and cotton sewing thread.
Different categories of product thickness range can meet the various needs of different thickness offabrics and sewing operations. Suitable for using in all kinds of knitted and woven fabrics and leather.
Rich fixed color card plus quick dye-to-match service, can provide customers with more coloroptions. Combined with a variety of special post-processing technology, can meet the special type ofterminal needs (such as flame retardant, waterproof, anti-static, etc.)